ABOUT ON TOP ROOFING AND RESTORATION
On Top Roofing & Restoration is comprised of an experienced and elite team of people with an uncompromising commitment to the highest standards in sales, service and installation. With On Top Roofing & Restoration you get:

*A fully licensed company to perform the work required
*Adequately insured for your protection
*A proven reputation for providing quality roofing services throughout the community
*A commitment to ongoing professional training to insure quality installation

By allowing On Top Roofing & Restoration to serve you, you are gaining the assurance that you'll be dealing with a quality, reputable and dependable professional. On Top Roofing & Restoration is locally owned and operated. We strive to create a lifelong relationship where even if you never need our services again, you will be happy enough with our work to be eager to refer us to your friends, family and neighbors. Networking from happy clients is how we have grown as a business. What sets us apart from the rest:

*We treat you how we would want to be treated with integrity, fairness and professionalism
*We pride ourselves in providing services in a timely, cost effective and safe manner
*We will give you exact starting and completion dates
*We utilize only the highest quality materials that we know can stand up to the extreme weather we have
*We stand behind the work we do, making sure it is done right the first time
*We provide extras to insure a quality installation. For example most shingle manufacturers require 5 nails per shingle. At On Top Roofing, we apply the shingle using 6 nails because we know our Colorado winds are fierce
*For Insurance claimed roof replacements we will upgrade the existing shingle to an impact resistant shingle
*We provide superior communication with each customer
*Competitive pricing. With being the largest residential client for our material supplier we are able to pass on quantity savings to our customers.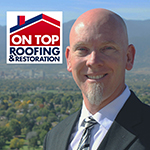 ON TOP ROOFING AND RESTORATION'S VISION
"We at On Top Roofing & Restoration seek to establish ourselves as Colorado and Arizona's most reliable and respected roofing company. We continuously strive to provide a high level of value and customer service to our clients throughout these regions in order to build long term healthy relationships." - Chris Higbee